Here are the entries for the first ever MSFH 30 Day Mini-Makeover Contest! The entries are all fabulous and I may have to call in a few reinforcements to make a decision… like my mom… and my sister… and maybe my neighbor, Jenny.  Jenny?  Are you there Jenny?  Which one do I pick?  
#1
From Lisa –  She turned two $4.00 dull garage sale lamps into brilliant blue creations.
Total Cost – $33.00
#2
From Judy – She rehabilitated a rocking chair she found during a recent garage clean-out.  It is going in her daughter's room.
Total Cost – $30.00
#3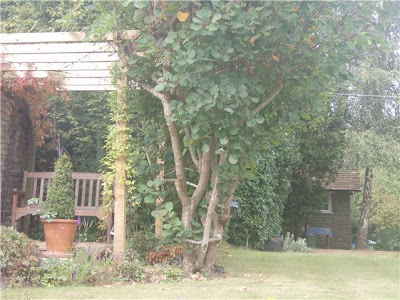 From Chris – Hey guess what!  This is from Chris that is married to Jane that is the sister to Liz who is married to Mike with whom we went to England!  Remember? The Mike and Liz leg? Chris and Jane live in the 600 year old house that is beside the Domesday church?  Is this ringing any bells?  Anyway – Chris recently finished the little pergola that is over the bench.  
Total Cost – 60 pounds (60 POUNDS!  POUNDS!  I feel downright cosmopolitan!)
#4
From Leila – A very glam chandelier re-do.
Total Cost $65.00
#5
Denice  - She re-did her daughters' room while they were visiting relatives. Beautiful!
Total Cost – $75.00
#6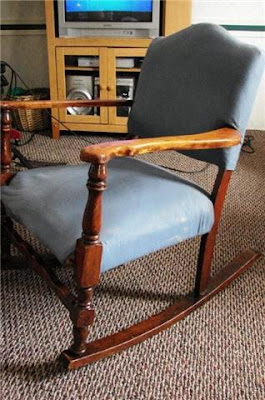 From Lorie - A nondescript blue chair is transformed to an attention grabbing animal print. Grrrrrowl!
Total Cost – $0.  (She had everything on hand).
#7
Another one from Leila - An island gets a new top.  (Check out the new paint on all the cabinets too!)
Total Cost – $15.00 (She took the new top for the island off of an old desk.) 
#8
From Dawn – She re-did this chair with her daughter. Whoops! Somehow – I didn't get the second photo for this project, but it is up now. Sorry Dawn! Love the purple fabric!
Total Cost – $35.00
#9
From Mavis  - She re-modeled her husband and her son!  She taught them how to throw away empty containers!  Look how happy her family is about the results! Especially her husband!  Har har har har ha ha ha ho ho ho hee hee hee ha!  
Total Cost – $0.00
#10
Stephanie put a new color of paint on the walls.  When I first got this entry, I stared at these two photos for five minutes, maybe longer trying to figure out what the change was.  I don't have an explanation for that.  I just kept looking at the shelf… it's the shelf… she changed something on the shelf… what did she move on the shelf?
When I finally realized that she had painted the walls a pretty shade of green, I called 911 and checked myself into the local hospital for an over-nighter.  
Total Cost – $20.00
#11
Poppy – She tricked out the living room… and confessed to spending more than $100.00, but not after she found out about the contest.  Which is the same as the calories in broken cookies right?
Total Cost – $100.00 Plus 
#12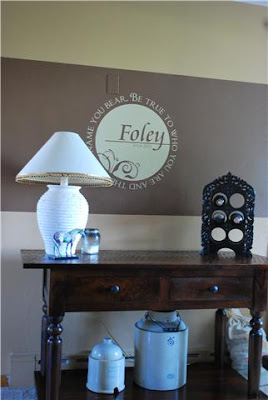 Liz – Re-did a wall over a rainy weekend.  Very cool.  
Total Cost – $40.00
#13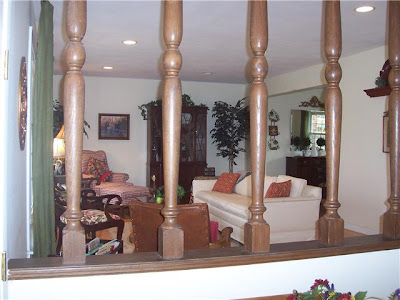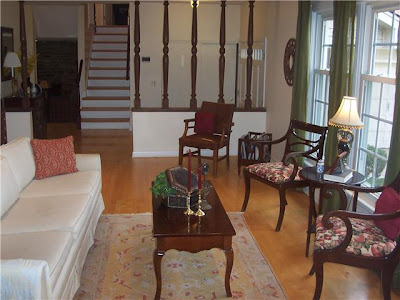 Carol removed the old spindles, painted and bought some new curtains for a brand new look.  Wow!  Really opened up the room!
Total Cost – $85.00
#14
Jennifer cleaned out a flower bed, hauled out the fall decorations and turned the garden debris into jelly!  Now that is a resourceful girl!
Total cost – $0.00
#15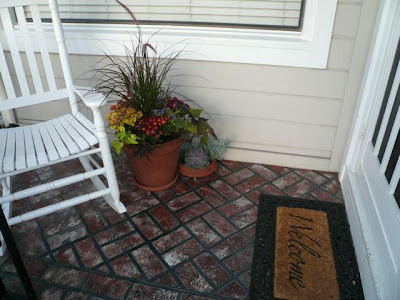 Here is a late entry that was actually not late, but got lost on my computer because I am a doofus.
Sarah forgot to take a before photo – but aside from re-potting the plant on her porch she also painted those bricks onto a cement porch! Those are not real bricks – they are faux! She painted them on! One of her neighbors stopped by and said, "Your porch looks really nice since you cleaned the paint off the bricks" Ha!
Total Cost – $70.00
Thanks to everyone who entered.  This was so much fun for me… and so much easier than doing my own project!  You all are inspiring!  I will post the winners on Friday morning.