As I traipsed through the internet looking for lodging for my family of six (two parents and four sons ages 7-14), I managed to find several options that were not quite as horrifically priced as the typical centrally located French hotel.  I thought I would jot them down for anyone else that might be in the same boat… or 'le bateau' as the Parisians say.
Reasonably Priced Paris Hotels… sort of…
First of all, there is no such thing as a reasonably priced hotel in Paris.  Be prepared to pay three times what you would pay for an American hotel room. There are no 'Super 8′s' or 'Motel 6′s' where they are leaving the light on for you.  If you want to be in the heart of the city or at least within a brief metro ride of the major sites, you are going to have to pay for it baby!  I did however find a few places to stay that were slightly more affordable than others…
The Appart'Valley Paris Austerlitz
Wonderful location within walking distance of Notre Dame, but also close to a Metro stop and just across the street from the Botanical Gardens.  All of their rooms appear to be equipped with a kitchenette allowing you to save some money by assembling a few meals yourself.  The larger apartments sleep four with an option for an extra bed.  The reviews are mostly good for this apartment/hotel, and depending on the size of your family, you may only have to rent one room.
This hotel is twenty minutes from the center of Paris, but it is right behind the Sacre Couer putting you within walking distance of at least one must-see in Paris.  Every review I can find of this 24 room old mansion in Paris is excellent.  It also has rooms that can sleep four people for far less buck and far more bang.  If lovely decor and a room with a view means anything to you this might be your place.  At the time of this posting a room that could sleep four was priced at 145 euros, which is at least 50 euros less than what it would cost you in the 5th, 6th or 7th arrondissement which are all more central to the major sites, however you will have an awesome view from this hotel as it is sited atop a hill with excellent views of Notre Dame and the Eiffel Tower (you will need to request the view).  In my next life, I am staying at L'Ermitage.  It simply looks lovely.  Check out what Trip Advisor has to say about this charming little hotel.
If a central location is a must-have for you and yours, than the Familia hotel might just be your best bet.  They have rooms that can sleep up to four people.  They also have rooms that can sleep three, two, and one.  You can mix and match and come up with a combo of rooms that might accommodate everyone without breaking the bank..  It is a superb location, as you can walk to Notre Dame, the Louvre, and Saint Chapelle.
This hotel is also a bit off the beaten path, but it offers a Metro stop just across the street with direct links to the Eiffel Tower.  You can get a large quadruple or a room that sleeps four for a very good deal if you do some shopping around on sites like expedia and booking.com.  This hotel has very good reviews and the pictures of the rooms look very inviting and comfortable.
Helpful Websites…
I found Trip Advisor to be the most helpful website to find information on Paris hotels and their prices, location, according to the number of people in your party, but Euro Cheapo is another one to check out if you are looking for two or three affordable hotel rooms to accommodate your larger family.
Hostels…
Sorry… I was not strong enough to explore this amazingly cheap option very long.  The reviews are just too grim, but if you are made of heartier stock than I, you can check out Hostels.com to possibly find a Paris hostel that has room for a family.
Vacation Rentals…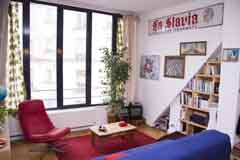 If you are interested in finding a space where the entire family can stay together, instead of having to book two or three or four rooms in a hotel, you might want to consider renting an apartment in Paris.  There are hundreds… maybe thousands of options and it is not difficult to find one that is centrally located and can sleep six or more people.  I found that searches on FlipKey and Ah Paris, yielded the best results.  Their sites are easy to navigate and you can set your parameters to include the number of people in your party, where you would like to be located, and how much you want to spend.  You can also search Trip Advisor for 'vacation rentals'.  Great photos and reviews round out these sites as being the best place in my experience, to check out short-term vacation apartment rentals in Paris.  Some short-term rentals will allow a three day stay, but you can get a better deal if you stay for a week.
Ultimately, if you are looking for a vacation bargain, you have probably already struck Paris off your list, but there are values to be found if you are willing to spend the time looking.  Some of these more affordable hotels require a phone call to the actual hotel to book a room and some will only take cold hard cash for payment.  I am sure it is a way to keep their costs down and give the family on a budget a nice place to stay.  Bon Voyage!